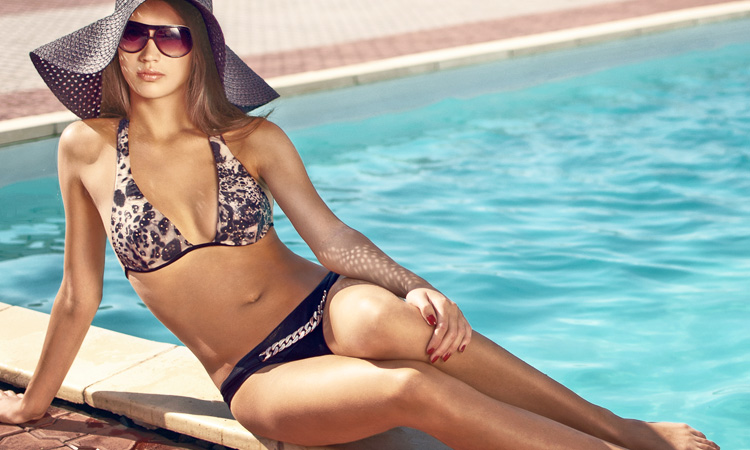 Swimwear Tips: Find the Perfect Swimsuit
Bathing Suit Basics It's bathing suit season again and while the thought may send some women screaming and running for the hills there is hope in finding the perfect swimsuit to show off your assets. While the right swimsuit is…
Bathing Suit Basics
It's bathing suit season again and while the thought may send some women screaming and running for the hills there is hope in finding the perfect swimsuit to show off your assets.
While the right swimsuit is a vital staple in your wardrobe, it is important to remember that swimsuits are not sized like most clothing. In fact, you should try one to two sizes larger than your normal clothing size.
Even if you are hesitant to go up a size, don't get caught up in the number. The right fit is what counts. When you find a suit that you like, lift your arms, bend over, sit down, and walk around to make sure it is not going to gather or ride up.
With so many styles of swimsuits on the market, it is important to take note of what works for your body and what does not. For example, when shopping for a tankini, make sure the stomach portion of the suit lies flat against your stomach but is not too tight. If it is too tight, your stomach will bulge causing more harm than good.
And when choosing patterns, remember that vertical stripes are more flattering than horizontal stripes. In fact, striped patterns with different sized lines look the best.
Bottoms Up
When trying on a swimsuit bottom, make sure your skin is not bulging from the waist or leg area. If it does, again, try going up a size. If the problem is still there, consider a different style bottom. In general, a bottom with a leg opening an inch below the hip bone is the most flattering.
Remember, bottoms stretch when they get wet. Make sure the bottom fits snug enough where it won't look droopy when it's wet. Boy shorts do not disguise hips, large bums, or large thighs – in reality they only accentuate your problem areas.
Get a Supportive and Stylish Lift
If you are looking for a top with an underwire, it should fit like your best fitting bra. The underwire should lie flat against your skin without any breast sneaking out of the bottom.
For most ladies, side cleavage is an issue. Starting at your underarm, ¾ of the breast should be covered. And for large busts, a halter top or an underwire top provides the best support and coverage. Halter tops with a wider band provide the most support.
When it comes to swimsuits, cleavage isn't everything. Most women like to emphasize their bust, but over-padding is not the answer. Steer clear of large, push-up pads. The foam holds water like a sponge and tends to pull the top down resulting in a saggy look that is not attractive.
If you want to add a little extra padding to your top, choose a thin pad that looks natural. Most pads can be cut to fit any style top. To prevent the pad from slipping, insert the pads into the lining of the top or sew the pads into the top.
Finding a style for your shape
All of this swimsuit advice can be mind boggling when you are on the hunt for a swimsuit but just keep the following style tips in mind when shopping and trying on swimwear:
Short Torsos: Vertical stripes or prints will make your body look longer.
Long Torsos: High leglines and low necklines shorten body length. Stay away from vertical stripes.
Hide Your Tummy: Styles that focus the eye in other places are best. Try a printed top with a solid pant. Also, try a one piece that is slimming in the torso or that will move the eyes toward the bust line. Tankinis also work great at hiding your tummy.
Boy-Shaped Body: Look for styles that create a waist. Avoid plain suits.
Small Chest: Bold prints and bold colors always flatter. Bandeau tops only put emphasis on small chests.
Large Chest: Support should be your number one concern. Underwire tops will provide the best support. Halter tops, especially ones with a wide band, also provide good support. Stay away from patterns that emphasize the bust. Try a solid top with a printed bottom.
Large Hips or Saddle Bags: Draw attention to your top half. Choose styles with vertical stripes, dark slimming colors, or with bust details. Try a solid pant with a printed top.
Swimwear Care Tips
Once you find the right swimsuit, you want to take extra special care of it. Follow these tips to keep your swimsuit ready all year long:
Always rinse your swimsuit with regular tap water after swimming. You should hand wash your suit with a mild liquid detergent. Some "hand washing" detergents can cause colors to bleed. Mild soaps, such as Ivory®, work best. Avoid all chlorine-based bleach products, spot removers, and dry cleaning. Never use bleach and never put your swimsuit in the washing machine!
The best way to dry your suit is to lay it flat in natural air. Never put a swimsuit in the dryer or wring it out!!! Avoid putting your swimsuit away until it is completely dry. If it is stored while still wet, it could become discolored. For the same reason, avoid leaving your wet swimsuit in a bag or wrapped in a damp towel.
When applying oil based sun tan lotions, minimize direct contact with your swimsuit. The oils naturally cause the swimsuit elastics to breakdown.
Hot tubs and highly chlorinated water can cause your swimsuit to fade. Also, these water conditions can cause embellishments to fade or fall off of the suit. Limit your swimsuit's exposure to hot or highly chlorinated water or wear an older suit in these conditions.